As higher education enters a phase of early disruption seeded by the Pandemic, and now accelerated with exponential technologies like ChatGPT, it's important to get a perspective of the road ahead.
At Beyond Academics, we spend a great deal of our time guiding clients to where higher education is going, and how to position their institution to be future-ready.
This year's Top 10 Things for 2023 gives you our perspective for what's ahead this year. We hope it leads to meaningful discussions, and challenging conversations within your department or institution.
These trends are not "potentially" going to happen. They are already in their early deployment, so consider how ready your institution is to adapt to each trend, so you can take full advantage of each trend in the months to come.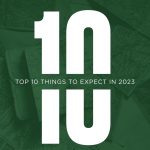 If clicking the image above does not work, Click Here Instead.